Drive-on Dry Dock Prices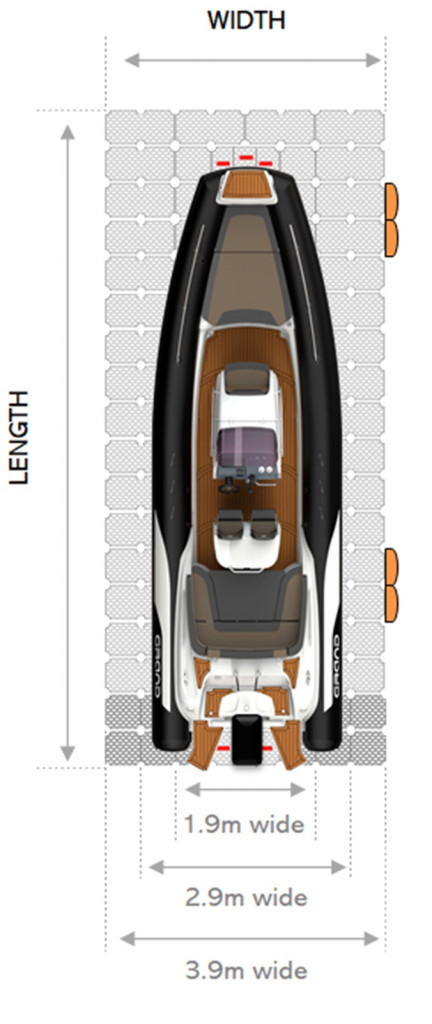 How to select the length:
Between -0.5m and +0.5m of the overall length of boat
+0.5m will provide a small walkway at the bow around the boat.
-0.5m will mean the bow of the boat overhangs the dock slightly.
How to select the width:
For boats 7.7m and longer, minimum width of the dock = beam of the boat
For boats under 7.7m in length, a 1.9m wide dock can be sufficient (depending on weight). The boat will likely overhang the sides of the dock, but oversized fenders can be supplied.
Accessories included:
1 x Mooring Cleat (To quickly tie bowline of boat)
2 x Moulded Fenders (To protect edge of dock)
3 x Steel Mooring Rings (To secure dock)
10m Mooring Rope (6m for the smaller docks)
1 x Steel Strengthening Beam for docks over 5.3m
(2 beams for 7.7m docks and over, no beams for docks under 5.3m)
4 x In-built marine grade rollers in each central float.
(3 rollers per float for docks of less then 6.3m)
Winch system recommended for particularly heavy boats (£455 + VAT)
(or for users wishing to operate medium / large boats single-handedley)
Stepped hull boats will require Guidance Support Tubes (£215 + VAT)
(to ensure the steps don't get stuck in the groves on the central floats)
Delivery & Installation:
Estimated to mainland UK (exact delivery costs can be supplied)
Self assembly required (installation cost can be quoted upon request)
Docks can be supplied without rollers
Subtract the cost of rollers (shown in last column)
Air Assisted Buoyancy System (£2,500 + VAT)
For oversized heavy boats, additional buoyancy systems can be added to the
stern of the dock to provide extra lift and keep the transom out of the water.
Accessories (excl. VAT):